ONERAHI PHYSIOTHERAPY IS PROUD TO BE A PART OF THE ONERAHI COMMUNITY
Onerahi Physiotherapy was established in 1990 by Physiotherapist Ricky Brijs-Blaak and her husband Alfons Brijs.. They purchased the area in the rear of the Onerahi Shopping Centre and Alfons built the practice.
.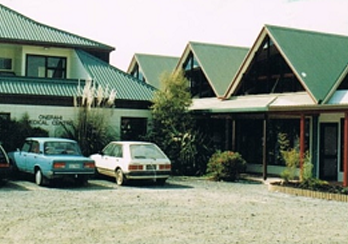 Elspeth Sugrue, who has been working in the practice since 2009, took over the ownership of the practice in November 2016.
The practice is the only physiotherapy practice in Onerahi and the nearest to the Whangarei Heads area.
We provide all aspects of physiotherapy to cover the needs of the community.
We encourage open communication and all clients to participate actively in their treatment to achieve optimal personal results.
Onerahi Physiotherapy is committed to provide high quality physiotherapy care in a supportive and educational manner for you, your family, and our community. We are focusing on consistent personal attention and hands on therapy.
Onerahi Physiotherapy will at all times comply with the guidelines of the Privacy Act and the Health and Information Privacy Code.
We observe Client Rights the Code of Health and Disability Services Consumers Rights. Leaflets for these Rights are on display in the practice.
Please feel free to bring along a support person/chaperone.
We are committed to excellence in customer satisfaction. Our client satisfaction surveys results always have been very positive, but we do appreciate constructive criticism as well. Any feedback will help us to improve Onerahi Physiotherapy. Click here and use our online contact form to share your suggestions.
PLEASE WEAR YOUR HEART ON YOUR SLEEVE, WE LISTEN TO COMPLAINTS
It is OK to complain, your complaints help to improve our services.